---
PSYCHO GEOLOGY
CURATED BY GEORGIA STEPHENSON ∙ ANDERSON CONTEMPORARY∙ DECEMBER 2022 ∙ LONDON
PSYCHO GEOLOGY explores a fictional sequence of events based on certain socio-economical, geological and cultural elements that have made west Cornwall the place that it is. Fox's latest body of work presents a science fictional depiction of the past, one that references the colloquial approach to archiving areas of Neolithic Heritage; west Cornwall's unique geological makeup and its sprawling industrial scars. The fictional story centers around Cornwall's unusually high levels of radon gas, and how this scientific anomaly acts as a catalyst for new and unusual behaviors. In Neolithic times this resulted in stone circles and the embryonic cultivation of rituals that have since developed into folklore, while in the Post-industrial era it led to the birth of surf culture, which can be seen as Cornish futurism in reality.
The exhibition includes three distinct series of artworks that not only recount this tale through their imagery but also act as fictional artefacts amalgamating elements from historic folklore, surfing subculture imagery and Cornwall's post-industrial landscape. Hybrid wall-based sculptures embed miniature landscape models and faux surfboard stickers within welded aluminium structures, while futuristic, psychedelic tablets created from recycled surfboards reference how Cornish surf culture was intertwined with the progressive British subcultures of the 1980s. Finally, Fox's digital paintings, UV printed onto reflective materials and housed in aluminium painted frames, play with layering to suggest how histories can equally obscure and create cultural meaning in Cornwall.
Taken from exhibition press release written by the curator Georgia Stephenson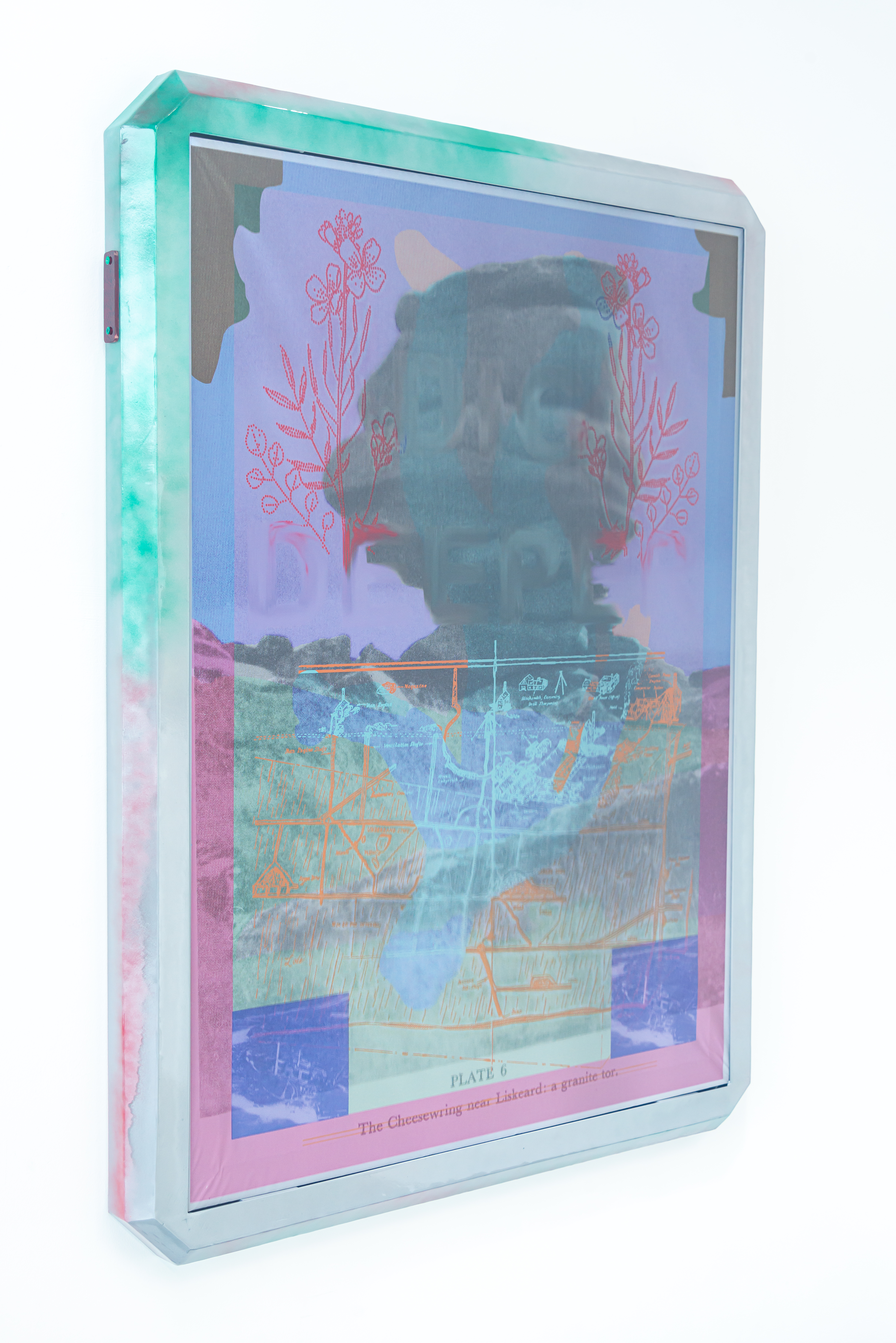 Every six months or so territorial internet tabloid Cornwall Live runs a starling story, referencing either the 'invisible killer gas' or 'incredibly high radiation levels' supposedly running rampant across the county. All doomsaying aside, Cornwall does indeed have higher levels of radon gas than any other area of the United Kingdom, and it is this radiation that serves as the pervasive protagonist of Elliot Fox's current solo exhibition 'PSYCHO GEOLOGY', curated by Georgia Stephenson at Anderson Contemporary. Were he a musician, Fox's latest offering would be considered his concept album, as the artist grounds the exhibition in a fictitious narrative befitting of a cultish conspiracy theory or a subversive Adam Curtis documentary. Here, west Cornwall's supposed radioactive adversary, unknowingly unleashed during a prolific period of industrial mining, acts as the catalyst for much of the county's geographical, socio-economical and cultural condition. The unseen source of a certain idyllic insanity that spurred on the creation of stone circles, and gave rise to the dominance of surfing and surf culture.

Applying a pseudo-science-fiction approach to depicting the past, present and future, where predicting the future is accepted as equally a futile endeavour as trying to accurately record the past, Fox draws from that particularly provincial home-made history-making, reliant on oral retellings of tall tales and passed down archaic archives. Lines between fact and folklore blur as the artist's own fictional account becomes itself mythologised. Ultimately, the story is told only in snippets, captured in scraps of digitised documentation, surreal surfboard stickers, sculptural standing stones and a sound piece that serves as the exhibition's accompanying score.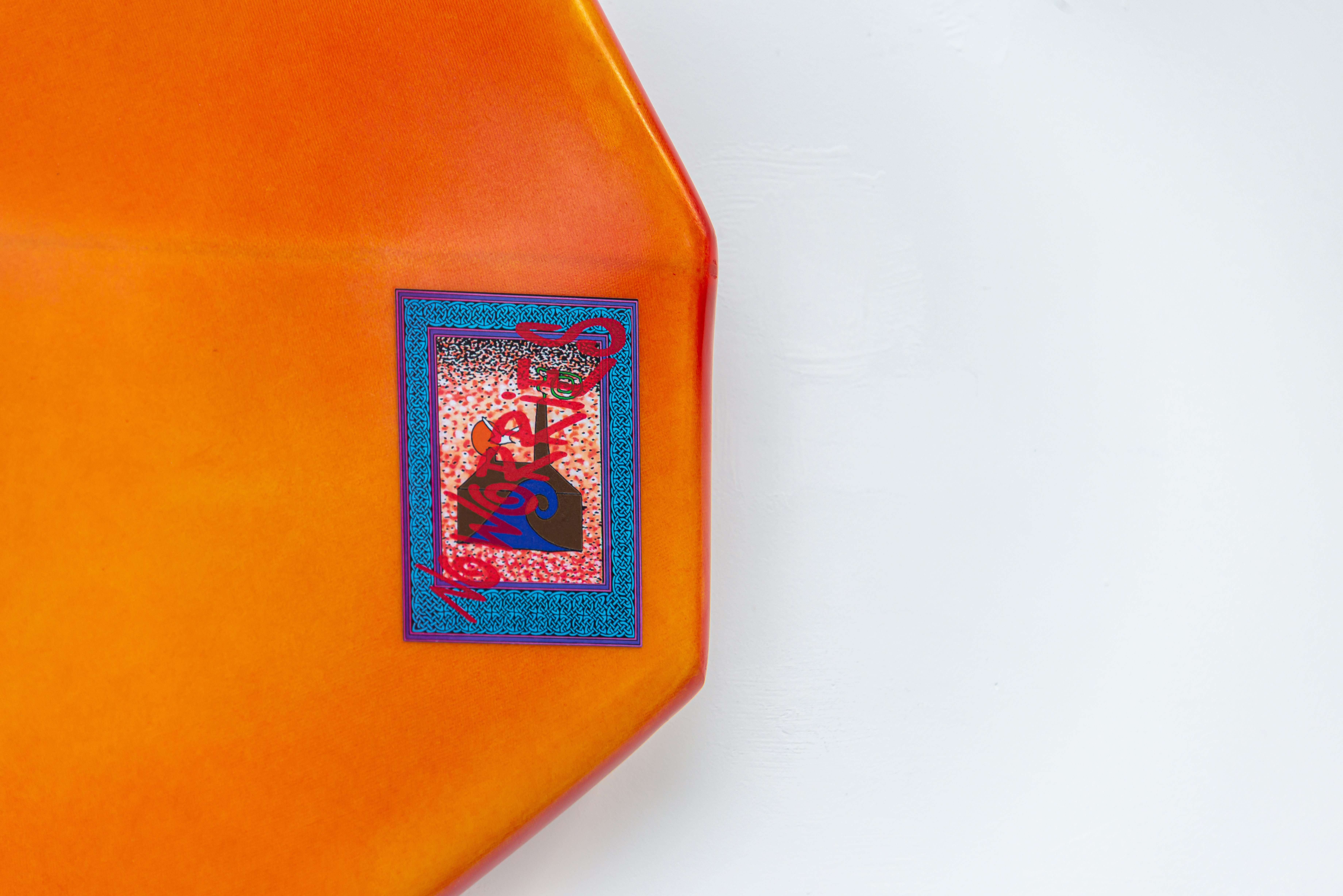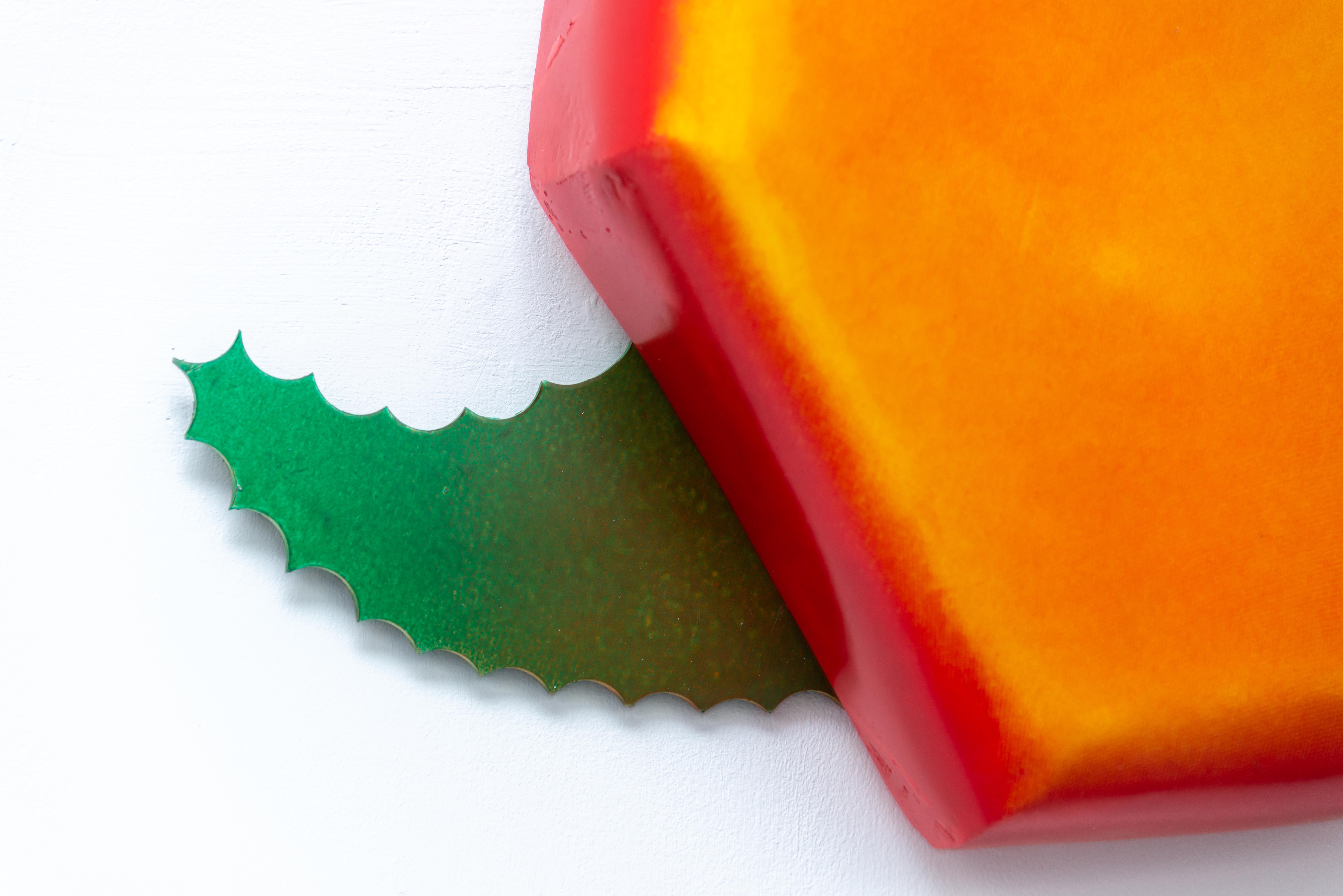 Fox's digital paintings become portals to a misremembered past, printed on illusory reflective material and encased in iridescent aluminium frames. Encompassing everything everything all at once, they present a concertinaed Cornish timeline, dense and layered like the perfect baker's lamination, as if taking an x-ray to the history books. Elsewhere, psychedelic acid-tab tablets, all organic shapes and smooth corners, are fabricated from surfboards, recognisable to those in the know only by their central stringer or flailing, deformed fins. Echoing the DIY ethos of surf subculture, each is adorned with the artist's own stickers, rife with Celtic mythological motifs, common Cornish insignia and satirical slogans such as Gas'd And Glas'd. Finally, Fox's wall-based metal sculptures - part Neoliolitic landscape maquettes, part futuristic man-made machines - play host to an aerial view of the Iron Age village Chysauster etched in wooden relief, Wheal Coates tin mine and a Gurnard's Head ruin flocked as mossy miniatures and a faux grass Gwennap Pit (the sunken site of John Peel's seminal Sounds Of The Suburbs interview with Cornish musical menhir Aphex Twin). The culmination of a warped world-building exercise, all held together by welds you can see your reflection in.
Exeprt from Hector Campbell's featured text in 'The Shock of the Now'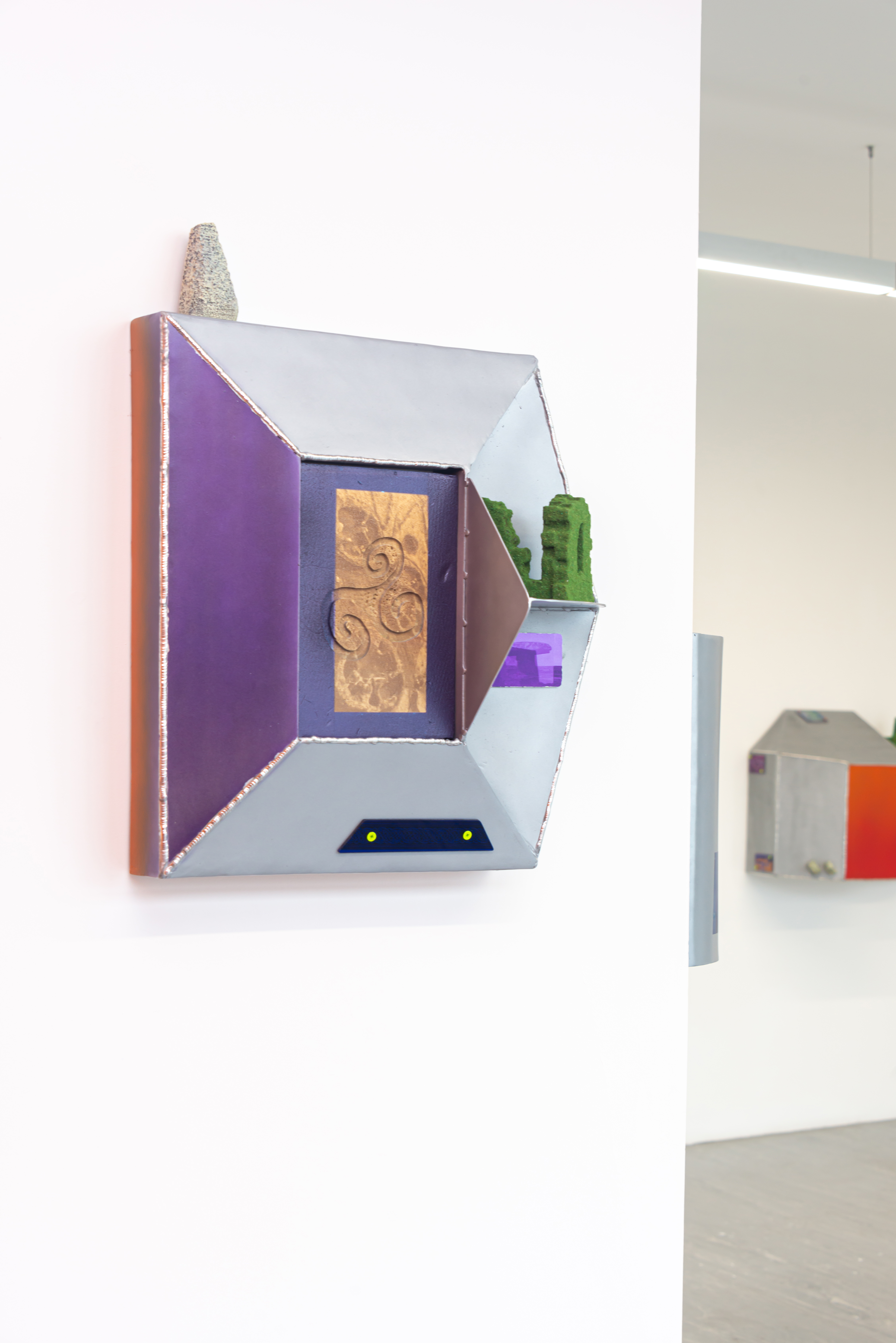 We'd decided that we had gone far enough.
Yes the air was suffocatingly thick in the sun, but it was worryingly thin down here.
Or at least, conceptually worrying.
We were too far gone to feel any kind of nerves, but we knew that we should worry.
Dissociated emotions are the first sign.
It was unlike me to enjoy the sensation of my foot plunging into a stagnant puddle in an underground cave – my sandal swallowed up in the process.
Now I was one-footing in the darkness – no signal, no sense of direction, no worries.
You need a licence for this sort of thing normally.


We'd decided to play a game in whispers.
I'll be the miner – you be the machine.
No, the other way round. I'm the machine. I'm the tin man, I just want a heart.
You know how you know you've got a heart? How?
When it starts to break.
Oh wow, you're killing me, that's the saddest thing I ever heard.
I can't kill you – you're a machine.
Machines can die, silly.
No they can't. They might stop for a while, but there'll always be someone who shows up to fix them eventually. Someone always comes eventually.
Machines need their men I guess.
Oh yes and washing machines need their women I suppose?
You know what I mean.
We'd decided to get a grip.
To resurface.
I couldn't be sure if it was a decision that we made or whether the mine had had enough of our nonsense and was forcibly ejecting us by cavernous osmosis.
You've had your fun, you sacrificed a sandal, now get out.
We held hands and heaved our way over fallen stone. Toes gripping onto slime as we reached the illuminated crack of entry.
Was this a rebirth? Kind of.
The moon shone on the sea. I caught glimpses of its twice-as-bright reflection between the roadside heaths as we sped home.
Far from peaceful, the sound of parties and fires across the land seemed to echo for miles.
Exerpt from curator Georgia Stephenson's essay for 'PSYCHO GEOLOGY' publication.





ELLIOT FOX